COME WITH!™

Organizations have spent millions of dollars over the past decade trying to determine the best way to successfully implement R3 which stands for; Recruiting new participants, Retaining current participants and Reactivating lapsed participants into hunting, fishing and/or target shooting.
By far, the most relevant findings from this R3 effort boil down to: 1) providing information to new participants and, 2) most importantly, having America's 60+ million active HATS™ invite someone to "COME WITH!" them when they head to the range, water or woods.
OSCF's COME WITH!™ R3 communication program provides Information on how to get started and works with active participants reminding them to Invite someone new to Come With them to help grow participation in hunting, fishing and target shooting.
Donate just $5 to get your COME WITH! Sticker and a "Fill a Bag"! CLICK HERE
---
Connecting With Conservation™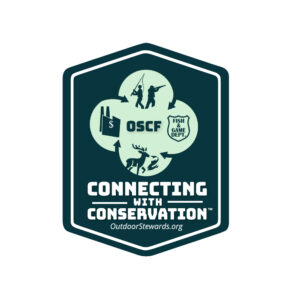 There are more than 60 million active HATS™ (Hunters, Anglers, Target Shooters) in American that spend 1.2 billion days collectively outside each year hunting, fishing and/or target shooting. No other group is more connected with nature, the outdoors and conservation.
Through purchases of excised taxed products such as; firearms, ammunition, bows, arrows, rods and reels, coupled with hunting and fishing license purchases and direct donations to conservation groups, HATS™ supply $10 million each day ($3.6 billion annually) to support conservation efforts. Unfortunately, most HATS™ (as well as the vast majority of the general population) do not know how conservation is funded in America.
Our 'Connecting With Conservation™' program works with wildlife agencies, industry partners and HATS™ to better communicate the fact that we are the primary funders and stewards of land, fish and wildlife conservation in America.